Adolf Hitler's and The Maharaja of Patiala
Maharaja Bhupinder Singh of Patiala was a larger than life personality. His appetite for everything wine, women, jewels, sports etc was gargantuan. So were his travels. He was the personal friend of the Kings of England, Spain, Sweden, Norway and many others. Patiala adolf_hitler_portraitAs an important member of the Chamber of Princes, he carried a great deal of influence in India as well. Perhaps, it is this influence that Adolf Hitler was hoping to leverage. Hitler's hordes were sweeping across Europe and he had grand plans for his thousand years Reich. This is the story of those times, of Hitler's extraordinary gift to the Maharaja of Patiala.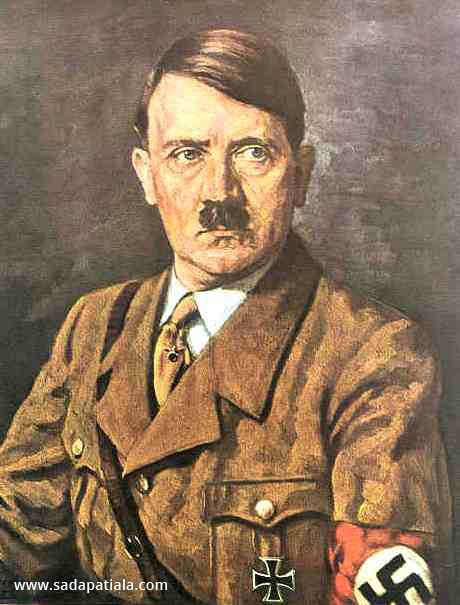 The story of this gift is recounted by his grandson Raja Malvinder Singh in his book "The Automobiles of the Maharajas". He says – "My grandfather Maharaja Bhupinder Singh went to Germany in 1935 and asked to see Adolf Hitler who very reluctantly gave him 10 to 15 minutes. They got into conversation, one thing led to another and 15 minutes became 30 and then 60. The Fuehrer asked grandfather to stay on for lunch and then asked him to come back the next day and then a third day. On the third day, he gave him German weapons like Lignose, Walther and Luger pistols and a magnificent Maybach.
Patiala Maharaja_Bhupinder_Singh There were only six ever made of this type. The Maybach was a ceremonial vehicle – a huge monstrous car that used 12 Zepperlin engine so the size of the bonnet was enormous. It was a cream coloured drophead with maroon upholstery and the boot used to open with two jump seats for the retainers. It could seat the driver and one more at the front and three at the back because it was very wide. It also had foldup seats like the later Buicks and Cadillacs and foot rests for passengers. In those days, it used to do three miles a gallon.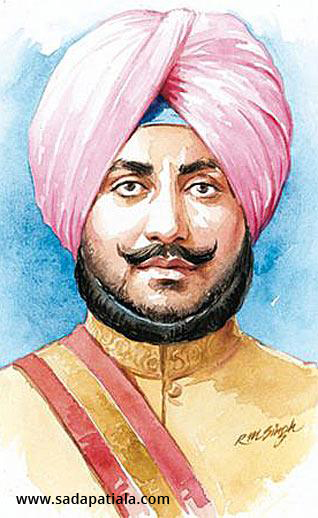 This amazing vehicle had one "hot" cylinder. When you are cranking up 12 huge cylinders, the same engine that propelled the zeppelin, it drained any normal battery. So it had a series of batteries which used to crank up once to start off. If you switched it off say an hour later, eleven cylinder decompressed but one cylinder kept maximum compression so all you had to do was hit the switch without hitting the starter button. The moment you hit the switch, that one cylinder came thump down with it's own compression and fired the other eleven without taking it off the battery. So all 12 came into use. Its only when you let it rest for 4 to 5 hours that hot cylinder lost its compression."
Patiala Patiala_Maybach This extraordinary car was shipped to India and was kept that the vast garages of the Moti Bagh Palace at Patiala amongst the numerous other Patiala vehicles including 27 Rolls Royces! After Maharaja Bhupinder Singh died, he was succeeded by his son Maharaja Yadavindra Singh. In 1947, India became independent and cataclysmic changes soon followed in the princely states. Patiala was merged with other states to form the PEPSU (Patiala and East Punjab States Union). Like other princely families, Patiala royal family too sold off it's vast possessions to adjust with the new times. Many things were simply gifted away, including the Hitler's Maybach.
Raja Malvinder Singh recalls how the Maybach was lost to the Patiala family in 1957 –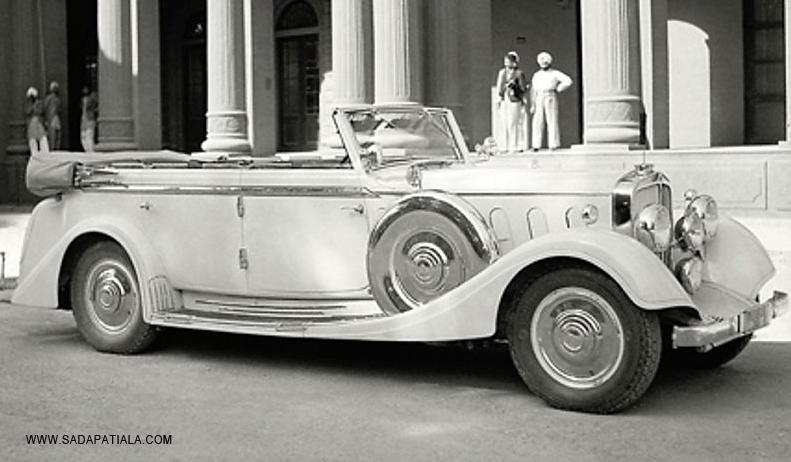 "I think it was the only Maybach of its kind that survived the war. I was sitting one day in Patiala House Delhi reading a comic when my father walked in with Sardar Sukhjit Singh Majithia after a game of Golf. The ADC came and said that Sardar Satyajit Singh had come to see my father. I was minding my own business but listening to what they were saying. After a while Sardar Satyajit Singhs aid to my father "Sir, I have come to ask a favour of you. You have this Maybach which you have never used. Can I buy it from you? My father said " I am not selling any cars, but if you want it as a gift, you can take it".We had a Australian named Harvey who was in charge of the garages and Sardar Satyajit said "Sir, could you give it to me in writing as Harvey won't give it to me". So my father dictated a letter to stenographer, signed it and the next day Satyajit drove to Patiala and picked up the Maybach. He eventually sold it and it is now with a private collector in America and probably worth close to 5 million dollars. "
Thus, this part of national heritage was lost to this country for ever.